/* use ScrollMagic.min.js for live */ ?>
Customize your results to focus on the data that is relevant to you.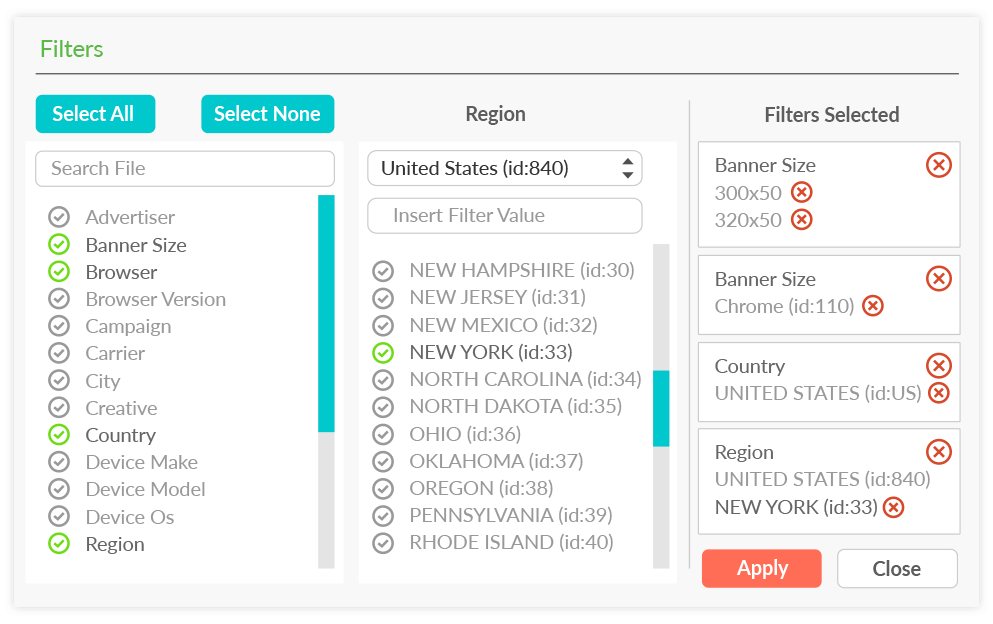 Time-Zone
Select any time-zone worldwide
Time Interval
Specify by Day, Hour, Week, Month or all times
Filters
Refine results by using any combination of 20+ filters, For example, get specific and detailed performance results by showing only data related to Advertiser, Campaign and Device
Dimensions
Use dimensions to group the results of your filtered reports. For example, by selecting the dimensions 'city' and 'browser', you can see the data broken down by city and then browser
Metrics
Specify the data by choosing the metrics that matter to you, such as Cost, Impressions, Conversions and Win Rate
The Bucksense Algorithm is designed to automatically evaluate and analyze the performance of multiple campaign variables.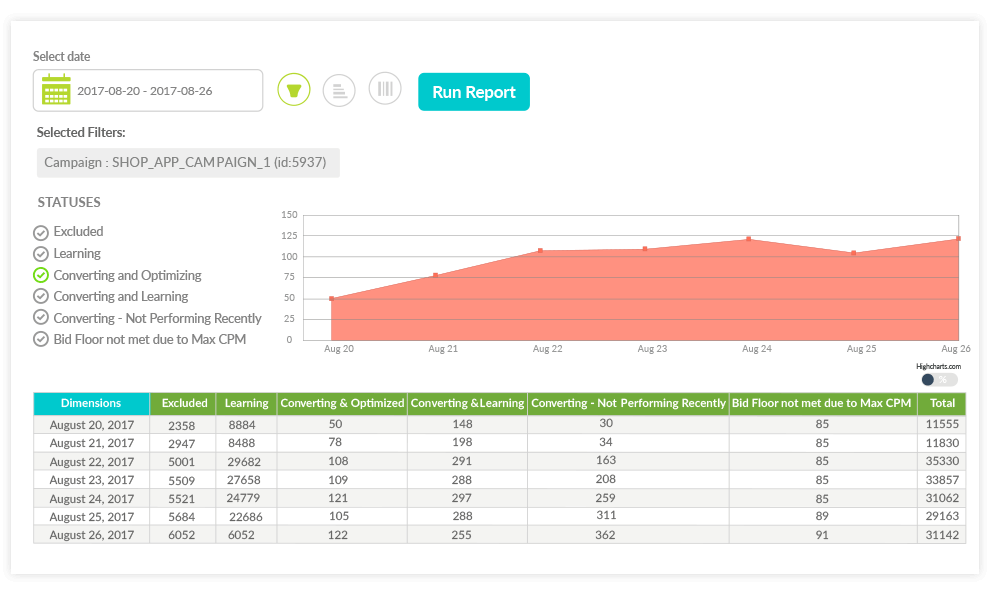 The Bucksense optimization report can be accessed directly from the console. It shows you how the Bucksense algorithm is progressing by assigning a performance status to each of the combinations that are being tested.
Your campaigns can be assigned any of the following statuses:
Excluded
Number of Optimization Combinations that have been excluded permanently.
Excluded - Campaign Not Performing
All Combinations that have been excluded temporarily.
Learning
Combinations with limited data that are still being tested.
Converting and Optimized
Combinations that have proven to be successful.
Converting and Learning
Combinations that have generated performance data, but not enough yet to determine if they are positive/negative.
Converting, but not Performing Recently
Combinations that have recently seen a decline in conversion.
Bid Floor not met due to Max
Combinations that didn't meet the publisher's minimum CPM bid.
Not Receiving Bids Recently
Combinations that have recently stopped receiving bid requests from our supply partners.
Performance reports for Offer Performance and/or Acquisition Campaigns can be set up directly from the console and automatically emailed on an hourly, daily, weekly, or monthly basis. Reports can be customized with the filters, dimensions and metrics that matter to your campaign.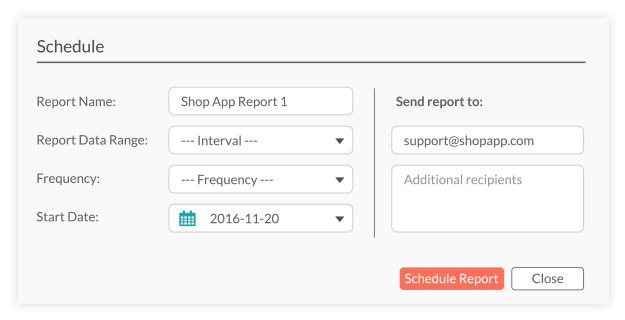 The Bucksense traffic planner allows you to explore different targeting variables to get an overview of potential impressions and placements worldwide.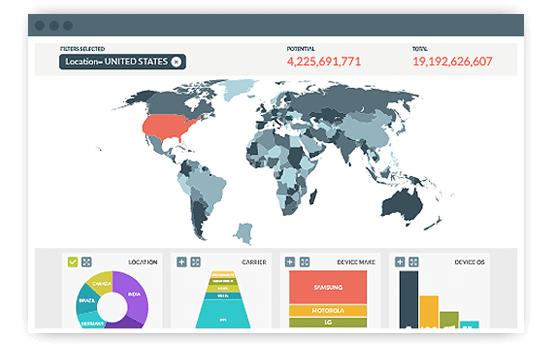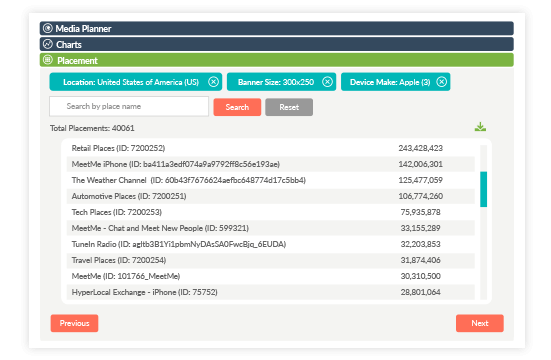 Refine potential inventory by breaking it down by the metrics that matter to you:
Geographic Location
Countries with the largest volume of impressions are highlighted in dark blue. Any combination of countries can be selected.
Variables
Mobile Carrier
Banner Size
Device Make
Device Type
Device OS
Supply Type (mobile/desktop)
Exchange (traffic supply source)



By clicking on the chart variables, you can see both the potential impressions and the specific placements. Placement lists can be created from the planner and easily exported directly to your campaigns.